Auditions
New E3 Performance Troupe: Echos
Friday, December 2nd @ 2:00pm

This group is meant to be a training ground for those who aren't yet at the required levels to be in E3 but already show an interest and passion. They will act as special guests for 2-3 performances in a 6 month period.
Requirements:
Ages 7-11
Jr. Jazz 1-2 & Children's Choir

6 Month Commitment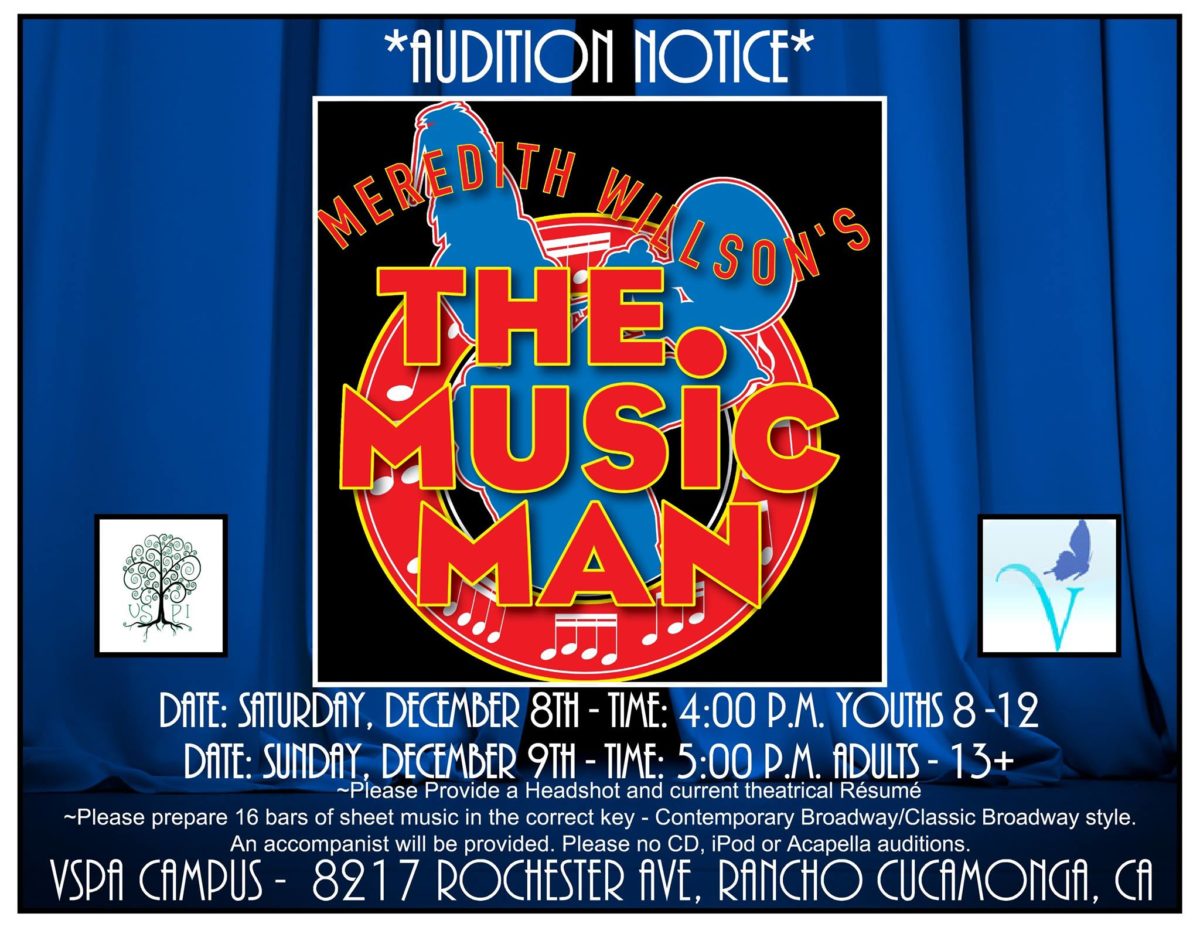 The Music Man
Saturday, December 8th 4:00pm – Youths, Ages 8 - 12
Sunday, December 9th 5:00pm - Adults, Ages 13 & up
Call Backs - TBA - if needed

8217 Rochester Ave
Rancho Cucamonga, California 91730
Requirements:
VISIT: https://www.facebook.com/events/2128529617421272/

~Please Provide a Headshot and current theatrical Résumé
~Please prepare 16 bars of sheet music in the correct key - Contemporary Broadway/Classic Broadway style. Reference the vocal range of the roles below. An accompanist will be provided. Please no CD, iPod or Acapella auditions.
~There will be a dance audition after singing. Please bring all of your respective shoes – Jazz and Character. There will be time and space for you to change and warm up. Please bring dance attire for the dance portion of the audition. You will be taught 4 – 6 counts of eight for the audition.
~ Be prepared to list any conflicts you'll have with rehearsal schedule.

CASTING:
•Cast Size: Open
(All roles open at this time / Non-Union)
•Cast Type: All welcome - ages 8 & up

18yrs old & over – Some chosen roles may receive a stipend, decided on by Producer if role is offered.
17yrs old & under - Participation fee will be required. Show T-shirt included in fee. More info at audition.

•Dance Requirements: Basic movements to advanced skills

Priority will be given to those who attend the open call. If you are an adult 18 & older and cannot make the open call please submit Résumé and Head shot to jeff@valverdestage.org for possible consideration.