< Back to news
Global Contemporary Master Class
When:
October 7, 2018 @ 1:00 pm – 3:00 pm
2018-10-07T13:00:00-07:00
2018-10-07T15:00:00-07:00
Where:
VSPA Main Campus
8217 Rochester Ave.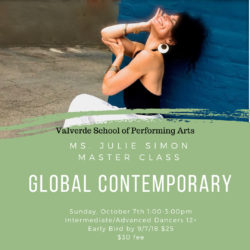 Dance Artist

Julie

Simon, has been a professional dancer for 25 years performing in styles ranging from Brazilian, Caribbean and Latin Dances, to African and Afro-Contemporary Dance Styles. She was based in Northern Ca. for 7 years, Africa for 4 months, Europe for 7 years and performed internationally in 12 different countries before returning to her native Southern California. She began teaching Contemporary Brazilian Dance (Afro-Samba), Samba and Barre Blaze 2003 through the urging of her mentor Eneida Castro. 

A few highlights include : 

2006 she founded Tropicaleiza Dance Company.

www.tropicaleiza.com

2011 she was an invited speaker for a TedX event speaking on the transformative power of dance. 

2012- 2018 she partnered with Room To Dance Studio and opened World To Dance Studio, now Infuse Dance Studio featuring classes from all over the globe for adults.  

www.infusedancestudio.com 

2013 was the creation of Muvuca Bateria, an all female 18 piece Brazilian inspired drum ensemble. 

www.muvucadrummers.com 

2016 was the premier of Lover|Fighter|Mother|Queen a full length dinner show.

2017 she co-created Ignite Accelerator, a business / technique academy for dancers, as well as Infuse Dance Collective, an on-line magazine by dancers for dancers. 

2018 was the launch of the JSMethod, an extensive dance training program. For a full description of JSMethod

www.juliesimondance.com

She is a recurring artist in residence performing, teaching, and setting choreogrpahy, for MSJC, the Palm Springs Dance Festival as well as Samba Colorado in Boulder CO as well as local high schools and colleges. Currently

Julie

teaches three weekly classes, workshops and residencies, continues performing with both Tropicaleiza and Muvuca.