< Back to news
Teen Ballet Placement Day
When:
May 15, 2022 @ 2:00 pm – 3:30 pm
2022-05-15T14:00:00-07:00
2022-05-15T15:30:00-07:00
Where:
Valverde School of Performing Arts
8217 Rochester Ave. Rancho Cucamonga
Ca. 91730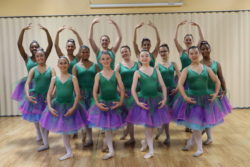 We are excited to announce our Ballet Placement Day on Sunday, May 15th at 2:00pm at the Main Campus.  Miss Kyla, Miss Haihua and Ms. Paulina will be assessing dancers and making sure students are placed in the correct Ballet Levels for the upcoming season.
Who should attend?
Dancers currently in Ballet 1 – 3
Jr. Ballet Dancers about to move up to Teen Classes

What should my dancer wear?
Current Ballet Level Colored Leotard
Pink Tights

Pink Ballet Shoes

Hair in a bun

How long will this take? Will I get the results right away?
The Placement Class will take 
60 – 90 minutes, depending on how many students attend. We will inform you at drop off of the estimated pick up time.
You will receive an email when your assessment is ready to pick up at the Front Desk.

Will there be a fee to attend this Placement Day?
Yes, there will be a $15 fee to attend the Placement Day Class. This will cover the additional expenses of the hours of the Ballet Teachers.
Do I need to Sign Up ahead of time? When do sign ups start?
Sign Ups will begin TODAY, May 2nd at the Front Desk. You may sign up until Saturday, May 14th.

Will this placement cover a Pointe evaluation?
No, this will need to be scheduled one on one with Miss Kyla. Pointe Assessments are the equaivalent of a private lesson and will be billed as such.

Please use this
Sign Up Genius Link
for a slot.